by Karen Schneider
After fourteen years of hard work growing their business in Leamington, England, John and Sarah Fairfax stood in the building that housed John's printing business and Sarah's bookshop. They were bankrupt; unable to continue. 
This was not through any fault of their own, such as bad management, or from lack of business. It happened because the Leamington Courier (the newspaper owned by John Fairfax) had revealed, in print, the malpractice of a local dodgy lawyer, W. C. Empson – and Empson took him to court.
John Fairfax won, but by the time the two court cases were over, the legal fight had cost the Fairfaxes a huge amount in legal bills, worth more than their two businesses and their home combined. All was lost because of Empson's dishonesty and spite.
John and Sarah's friends rallied around them and resolved to do what they could to raise the money needed to help them. The Fairfaxes were touched by their friends' kindness, but John would not give up his self-respect and become dependent on his friends' charity. And so the decision was made: John would become bankrupt and start from scratch.
Where could they make a fresh start? John wanted 'a wider, freer atmosphere where he might build'. With only £10 in his pocket, John took Sarah and their young children to start a new life in Sydney, Australia.
They arrived on 26 September 1838 after a very difficult sea voyage. Life in Sydney was difficult for the Fairfax family. Their fourth child, born during the voyage, died only a few months after their arrival.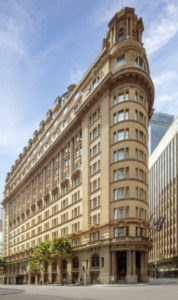 Their circumstances began to improve, though, when John was appointed as the Librarian in charge of the Australian Subscription Library in 1839. Among his friends was local news reporter, Charlie Kemp. During many evening discussions, John and Charlie came up with a plan to buy the Sydney newspaper, The Sydney Herald.
The owner of The Sydney Herald, Frederick Stokes, was willing to sell – for the staggering sum of £10,000 pounds. This was a huge amount of money at this time, but Fairfax and Kemp were confident that they could make the newspaper a successful business, so they asked for financial backing from their friends, including Welsh-born businessman David Jones who was the founder of the David Jones department store. David Jones and John Fairfax were deacons together in the influential Pitt Street Congregational Church in Sydney.
Fairfax and Kemp poured their energies into building up the newly named Sydney Morning Herald according to their belief that 'the news must be plainly and succinctly stated without prejudice, without colour, without malice, without scandal.'
The values they brought to running a newspaper were shaped by their Christian beliefs. They committed to 'set an example in partnership for all Sydney to learn from, no cross words or bitter thoughts.' They would do 'their utmost for the improvement and growth of the Colony … fight hard for those things which should be brought about … and when wrong, admit it.'
Their values were put to the test in the financial depression of the early 1840s. John and Charlie weathered the storm by keeping their own wages to a minimum so that their staff could keep their jobs, and this meant that, even though the staff wages were reduced, they at least stayed employed, unlike many of the workers at other newspapers.
John would be known throughout his life for his generosity and kindness to his staff:
As an employer he was not only respected but really loved by all who were in any way connected to him … the best proof of their esteem was the record of long service of his employees.
By the end of the 1840s, The Sydney Morning Herald was well established, reaching 3000 readers each day and employing over 60 staff. John and Charlie were in a strong financial position and had paid for the business in full.
However, with all this success, John Fairfax did not forget those who stood by him and Sarah in those dark days of bankruptcy. In 1852, John and his family returned to Leamington, England for a family reunion and to purchase much-needed printing machinery in London.
With deep satisfaction, John pulled a small black notebook from his pocket, a book he had cherished for nearly 14 years. It contained the details of all the people he had owed money to before he went bankrupt and could not pay his bills. He wrote to each person and enclosed payment of the amount, plus interest. John's grandson later said:
The letters he received in reply, expressing surprise, gratitude and admiration, were the most prized records of his lifetime.
By the time John returned to Sydney a year later, the number of readers of The Sydney Morning Herald had doubled, making it the third largest newspaper in the British Empire. Charlie Kemp sold his share of the business to John, who brought his sons into the company. His family and the generations to come would remain in control of the company for nearly 150 years.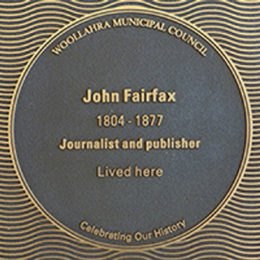 John Fairfax was a community-minded person as well as a successful businessman. He also served on the Council of Education, and as a Director of the AMP Society, the Sydney Fire Insurance Company, the Australian Joint Stock Bank, and the Australian Gas Light Company. He was President of Sydney's Young Men's Christian Association (YMCA) and was also a Senior Deacon of the Pitt Street Congregational Church, where he gave his time and energy to the church throughout his entire life.
Following his death on 16 June 1877, the Church laid a plaque in his honour. It read:
He was one of the first deacons of this church. Devout, industrious, affectionate, public-spirited, he was useful in the church, trusted in business, beloved in his family, and honoured for his labours.
John Fairfax was a man who valued honesty, integrity and kindness. He lived his life as a man who put his Christian beliefs into action and, in doing so, left a legacy that profoundly shaped Australian society.
Source:
Quotes taken from J. F. Fairfax, The Story of John Fairfax, John Fairfax & Sons, 1941