by Chanell Diaz
14-year-old Joseph Rowntree, travelling with his father to Ireland, saw first-hand the appalling effects of the Great Famine, where at least one million poor people starved to death. This was to have a real impact on his life.  
From 1836 to 1850 the Irish potato crop, which would normally feed about 60% of the population, had failed. The government did not take any real action to help, leading to widespread death. It was estimated that around 500,000 people left Ireland during this time, and over a million died.
This experience in Ireland would shape Joseph Rowntree's ideas about politics and business later in life.
Joseph's family owned a grocery shop in York, England. Joseph was the second son and worked alongside his father. He took over his family's business after his father died in 1859.
In 1869, he left the family-owned grocery store and joined his younger brother Henry to run a cocoa, chocolate and chicory factory. However, their growth as a company competing in the cocoa and chocolate market was heavily restricted by the successful marketing of the Cadbury organisation.
In 1879, he employed Claude Gaget, a French confectioner, to develop a new line of products which at this stage were mainly produced in France. This included fruit pastilles and fruit gums, which were an instant success and caused the business to flourish.
In 1883, Joseph's brother and partner Henry Rowntree died at only 45 years of age, leaving a wife and three children. This left Joseph solely in charge of the business, and he continued to work hard.  
Some of the original products that Rowntree created have since been taken over by other companies, but included Smarties, Kit Kat, and Dairy Box.
It was very important to Joseph Rowntree that his factory produced top quality products like these, but it was also important to him that his employees had a good and improving standard of living.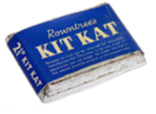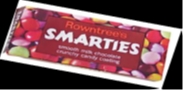 Rowntree belonged to the Quaker faith. Quakers are a group of people whose beliefs have their roots in Christian faith. They believe that all people are equal and mostly good. They are a very peaceful and anti-violence group. They believe that:
God is love, the light of God is in every single person, a person who lets their life be guided by that light will achieve a full relationship with God. Everyone can have a direct, personal relationship with God without involving a priest or minister. Redemption and the Kingdom of Heaven are to be experienced now, in this world.
Joseph Rowntree's beliefs meant that he embraced the idea of improving the world and make it a better place. Quakers are very concerned with human rights, environmental issues, social justice, living as a community and peace. Knowing this, it is easy to see how his faith influenced his life. He did not speak about his religious beliefs very often, but they definitely had an impact on his home life, his commitment to social reform and the way he did business.
During his life, Rowntree pushed for social reform, and provided adult literacy programs and medical services for his employees. He was keen to help his employees have what they needed to live a good life, and provided them with a library, free education, a magazine, a social welfare officer, a doctor, a dentist and a pension fund.
But his life was not spared from tragedy. Joseph's first wife, Julie Eliza Seebohm, whom he married in 1862 died only a year later. His second marriage to Emma Antoinette Seebohm, a cousin of his first wife, took place in 1867 and they had six children.
Rowntree died on 24 February 1925 aged 89, and the city of York mourned the passing of this man who had worked hard for the benefit of others. He is buried with a simple headstone in the Quaker cemetery in York.
Joseph Rowntree's life was faith in action. He did not need to speak a lot about what he believed because he lived it every day, at work and at home. 

Sources and further reading:
https://www.jrct.org.uk/history-and-heritage.aspx
https://www.bbc.co.uk/history/british/victorians/famine_01.shtml
https://www.rowntreesociety.org.uk/history/rowntree-a-z/claude-gaget/
https://www.rowntreesociety.org.uk/history/rowntree-a-z/sarah-nee-stephenson-rowntree/