Australia's iconic Sydney Harbour Bridge is recognised around the world. From the day it was formally opened it has been a celebrated part of Sydney's landscape. A special series of four stamps was issued to commemorate its opening in 1932, at the height of the Great Depression.
One of the most important occasions it has seen was on 28 May 2000, when 250,000 people gathered to join the Walk for Reconciliation across the famous bridge.
It is hard to imagine Sydney Harbour without the bridge! The first recorded mention of a bridge to cross the harbour was put forward by Francis Greenway in 1815. However, it was not until 1912 that the idea was more seriously considered.
Who was it who had the vision and the tenacity to build a bridge that today accommodates eight vehicle lanes, two train lines, a footway and a cycleway – a bridge that people all over the world recognise as a symbol of Australia?
The task of creating a vision for what to build, and figuring out how to do it, fell to Dr John Job Crew Bradfield.
John Bradfield, Chief Engineer of Sydney Harbour Bridge and Metropolitan Railway Construction, was dubbed the 'father' of the bridge because of his vision and his ability to share that vision with the politicians and the business people of the day, who were captivated by this magnificent project.
During his thirty years as a public servant, he also oversaw the design and construction of Sydney's city railway system. He was associated with the building of the Burrinjuck Dam, bringing a water supply to the Riverina area so it could become a major food supplier. He contributed to other major projects in many places in Australia.
However, the Sydney Harbour Bridge was no doubt his most famous achievement.
Bradfield ranks as one of Australia's finest-ever engineers. He was also a visionary nation-builder – and a devout follower of the teachings of Jesus.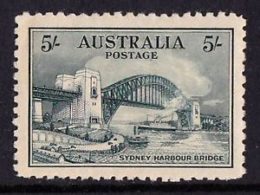 At his memorial service at St Andrew's Cathedral in Sydney in 1943, the Anglican Archbishop of Sydney, the Most Reverend Howard Mowll, acknowledged Bradfield's impressive worldly accomplishments. However, he also said that Bradfield was a 'man of simple faith' who 'never missed the opportunity of presenting gracefully that simple faith'.
He was willing to take time to talk to others about what he believed. And in a time when some people may have thought it was possible to be either a modern man of science or a man of faith, Bradfield showed it was possible to be both – and used his God-given talents for the benefit of his community and his nation. 
Written by Graham McDonald, with thanks to Roy Williams.
References: