Murabuda Wurramarrba's son, Tony, reached out and dropped his Order of Australia medal onto his father's coffin. "He was the better man," said Tony. "He taught me all I know, and he deserves it more than I do."
Why did Tony demonstrate such deep respect for his deceased father?
Tony's story goes back at least two generations and it starts with his grandfather, affectionately known as 'Old Charlie'.
'Old Charlie' Galiawa became a legend. Born in 1890, he was old enough to have seen and known the Macassans. These were the fishermen-traders from Indonesia who had been coming each year to the Northern Australian coasts for centuries before Europeans came to Australia, up until 1906.
The Macassans brought with them exotic foods and drinks, including tamarinds, chilli and beer, which they often tried to exchange for local Indigenous women. This was against strict local laws, and fights and other trouble sometimes broke out – including the occasional abduction of women by the Macassans as they left to return to Indonesia. Some Indonesian historical records report that Indigenous Australians killed groups of Macassans.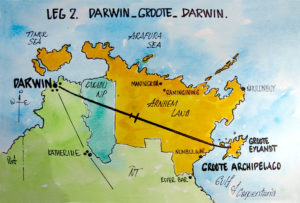 The earliest European visitors to the far north of Australia – to places like Groote Eylandt in the Gulf of Carpentaria, where Old Charlie would later live – are believed to have come from countries like The Netherlands and Portugal. In 1644, Abel Tasman, in the service of the Dutch East India Company, arrived on the island's shores, pronouncing it 'Groote' or great – meaning large.
Nearly 300 years later, Anglican missionaries working with the Church Missionary Society (CMS) came to the area, bringing with them the Christian Bible, food and the promise of salvation.
They arrived in 1921, and Old Charlie was one of the Groote Eylandt men who welcomed the first Christian missionaries. These were very different visitors from those Macassans that Old Charlie had seen in his youth! We don't know when, but we know that Old Charlie became a follower of Jesus.
He helped to establish the CMS Mission at Emerald River, an historic place that the Groote Eylandters now call 'Old Mission'. Old Charlie brought his family to live beside the mission, as one of the first Christian families in the area. There at the Emerald River Mission, his son, Murabuda, was born in 1934.
As Murabuda grew up embracing the Christian teachings of his parents, he was described as man of faith, powerful yet gentle, traditional but always open to change; and as a man with a boundless desire for helping his family and his people.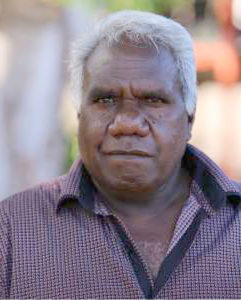 When Old Charlie died, Murabuda became the head of the Wurramarrba clan and one of the senior elders of Groote Eylandt.
At this time, Groote Eylandt was faced with a difficult problem: an increase in young boys being addicted to petrol sniffing, which is a very harmful thing to engage in. Murabuda single-handedly stopped the problem by breaking the cycle. He wisely took the boys away from danger, teaching them to survive by fishing and hunting on an isolated island for a time.
The faith of people like Murabuda and the work of the early missions brought many benefits to Indigenous communities.
Murabuda modelled to his clan that, just like his father Old Charlie, he could be Indigenous and be a Christian without culturally 'becoming white'. Old Charlie had begun something important that Murabuda was carrying on.
Murabuda never lost the Christian faith of his childhood at the mission. He read the Bible and applied its teachings to his life. Even in his own old age, Murabuda served other people by helping to start Groote Eylandt's version of a 'men's shed', where he was still making spears and artworks until only a few weeks before his death.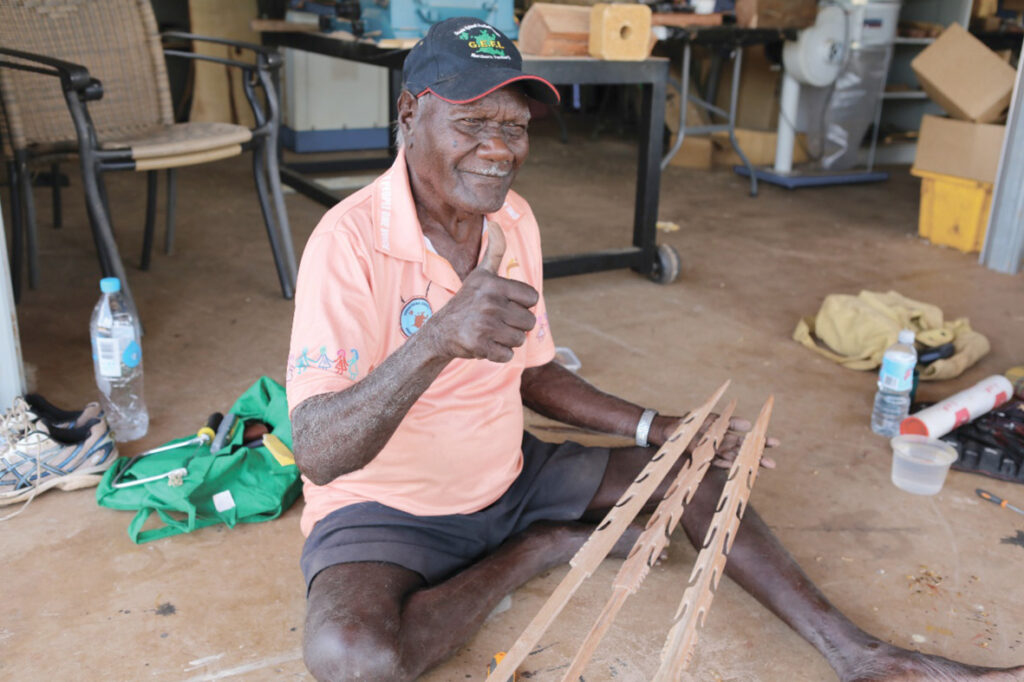 A strong father figure who led by example, Murabuda raised his children to be like him. He was the father of an exceptional Groote Eylandt family, and they have followed his example of personal integrity and public service. Together, they created a rich life.
During the 1950s, white men came to Groote Eylandt in search of a different kind of wealth, hidden deep in the ground. They found a mineral called manganese in the ground and wanted to start mining it. At the time, the Church Missionary Society (CMS) helped establish the rules for how this was going to happen and who would benefit. In 1964, CMS made an agreement with BHP (a mining company), and in 1965 the Groote Eylandt Mining Company (GEMCO) began its work.
CMS legally held the right to be paid by the mining company for what they found. However, they did not make this agreement to get money for themselves. They set up the Groote Eylandt Aboriginal Trust, run by local Indigenous people, to which all the royalties (payments) are still given to this day. They ensured that the money would go to the rightful owners: the local Anindilyakwa people.
Mining royalties have allowed the Anindilyakwa people to create many very successful businesses, including the Eylandt Lodge – a resort based around cultural tourism.
Today, this mining still occurs, but with respect for the wishes of the Anindilyakwa people, who wish to conserve their beaches and oceans for generations to come. The mining company is seen as a partner for the Anindilyakwa people, providing employment, training and financial security for their children's future.
Old Charlie, by welcoming those first CMS missionaries, helped to build a legacy of faith, leadership and partnership that his family has continued to build on. Murabuda's eldest son, Tony Wurramarrba, is Chairman of the Groote Eylandt Land Council, and once accompanied Governor-General Dame Quentin Bryce on an overseas tour of Indigenous communities. He was awarded the Order of Australia in 2013.
It is a good thing that Old Charlie didn't let fear of visitors like the Macassans stop him from welcoming those early missionaries! The strong, Christian legacy that he created through his son Murabuda and grandson Tony is testimony to the power and influence of the Christian message in all cultures.
Written by Graham McDonald with permission from John Harris, Bible Society Australia.
Resources and further reading
Information from the Wurramarrba people is used with permission from John Harris – john.harris@biblesociety.org.au
http://pandora.nla.gov.au/pan/137608/20170119-0000/www.biblesociety.org.au/news/an-era-ends-with-passing-of-aboriginal-leader-murabuda.html